A
major feature that distinguishes the PlayStation 3 from its predecessors is its unified online gaming service, the PlayStation Network,[6] which contrasts with Sony's former policy of relying on video game developers for online play.[7] Other major features of the console include its robust multimedia capabilities, connectivity with the PlayStation Portable,[9] and its use of the Blu-ray Disc as its primary storage medium. The PS3 was also the first Blu-ray 2.0-compliant Blu-ray player on the market.
The PlayStation 3 was first released on November 11, 2006
in Japan, November 17, 2006 in North America, March 16, 2007 in the United Kingdom and Ireland and March 23, 2007 in mainland Europe and Oceania.[14][15] Two stock-keeping units were available at launch: a basic model with a 20 GB hard disk drive and a premium model with a 60 GB hard drive and several additional features (the 20 GB model was not released in Europe or Oceania). Since then, several revisions have been made to the console's available models, most notably with the release of a new slim model in September 2009 to coincide with rebranding of the console and its logo.
Game controllers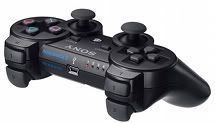 Replacing the Sixaxis as the standard PlayStation 3 controller, the DualShock 3 (trademarked "DUALSHOCK 3") features the same functions and design including "Sixaxis" motion sensing, but with vibration feedback capability. First announced by Sony at its press conference at the 2007 Tokyo Game Show,[15] the DualShock 3 was released on January 11, 2008 in Japan and on April 5, 2008 in the United States. Although software must be explicitly coded for vibration effects, software patches were released to implement vibration features in many previously-released PS3 software titles.